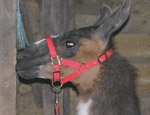 Buckle type in red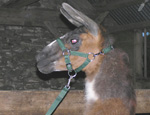 Clip type in forest Modelled by "Chi"
for Llamas and Alpacas
10 colours, 4 sizes or made to measure. Adjustable, padded nose bands and high quality fittings.
Small: for camelids approx 6-18 months.
Alpaca: for female alpacas
Med: for female llamas and male alpacas
Large: for male llamas
Available in 2 styles:
Buckle neck: £13.50
Clip neck: £16.50
Cria Headcollars
In ½" web, buckle style only.
Suitable for crias up to 6 months old: £11.00
Catch straps and flat leads available to match. Please see leads section.
Colours: Black, White, Grey, Brown, Red, Yellow, Burgundy, Emerald, Forest, Royal, Navy, Bright Blue.
N.B. Bright Blue is not available in ½".
Two-tone to order.
Measuring for a Headcollar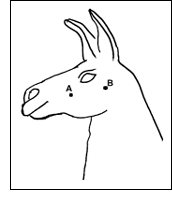 Measure:
A right round nose approx 1/2" (12mm) in front of eye.
A (offside) - through B to A (nearside) round crown behind ears.
B (off) to B (near) under throat.
A to B cheek piece.
Once fitted to a specific animal the clip type is quick to put on but must be adjusted if used on another animal (or if the original animal grows). The buckle type is adjusted to fit each time it is put on (similar to a horse headcollar). In both cases the small size, which is suitable for crias, has a slider adjustment on the nose band to reduce bulk and weight.
IMPORTANT: The positioning of the nose band is critical; it should be no more than 20mm in front of the eye. After fitting check the crown adjustment to ensure that the nose band cannot slip down as this may interfere with breathing and may cause panic with possible serious consequences.