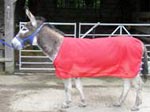 Modelled by "Toby"
Cooler/Sweat Rugs
Made to measure in red polyester net. Ideal for after bathing or hard work. One front buckle strap and leg straps as standard. Cross-over surcingles extra.
Choice of strap and binding colours: Red, Royal or Black.
Up to 3ft 6in measurement B £36.00
Over 3ft 6in up to 4ft 6in £39.00
Surcingles add £5.00
Measuring for a Rug or Show Coat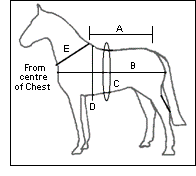 Measure:
A. Topline from 4 ins (10cm) in front of withers (or donkey cross) to dock.
B. From centre chest to back of thigh.
C. Total girth at widest part.
D. From spine at widest point of animal to desired length.
E. From start point of measurement A to top of rug at chest centreline.
Do not use a metal tape or pull the tape measure tight.