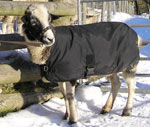 Modelled by Rosie, 17 years old.
Winter Turn Out Coats for Sheep:
Measurement D: Up to and inc 18" (45cm) £32.00
Over 18" up to 22" (55cm) £34.00
Over 22" £36.00

Waterproof and warm - ideal for early shorn sheep.
The coats are made from a PU Nylon outer with a polar fleece or cotton lining.
All coats have one strap on centre chest to allow easy grazing.
2" web strap at girth with quick release fittings and leg straps.
Colours Available:
PU Nylon outer: Black, Red, Burgundy, Blue and Green.
Cotton lining: Grey.
Polar fleece: Variable.
Measuring for a Winter Coat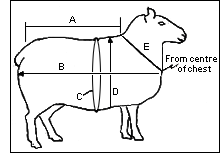 Measure:
A. Topline
B. Centre chest to back of leg.
C. Total girth.
D. Depth of body.
E. Base of neck to centre chest.
NB. Measurements D and E should be taken from the centreline (backbone). If you are measuring a fully fleeced animal that is to be winter shorn please allow for the fleece (pull the tape measure tight)