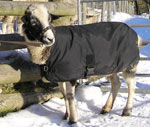 Modelled by Rosie, 17 years old.
Winter Turn Out Coats for Sheep:
Made to measure: please scroll down for instructions.
Prices: Measurement D: Under 18" (45cm) £35.00
18" up to 22" (55cm) £37.00
Over 22" £39.00 Over 25" £43.00

Waterproof and warm - ideal for early shorn sheep.
The coats are made from a waterproof, breathable polyester outer with a polar fleece or cotton lining.
Please be aware that breathable material cannot be 100% waterproof in extreme conditions.
All coats have one strap on centre chest to allow easy grazing.
2" web strap at girth with quick release fittings and leg straps.
Colours Available:

Outer: Black, Red, Burgundy, Blue and Green.
Cotton lining: Grey.
Polar fleece: Variable.
Measuring for a Winter Coat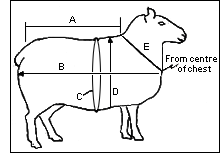 Measure:
A. Topline
B. Centre chest to back of leg.
C. Total girth.
D. Depth of body (measured from centre of back).
E. Base of neck to centre chest.
NB: B will ALWAYS be greater than A.
NB. Measurements D and E should be taken from the centreline (backbone). If you are measuring a fully fleeced animal that is to be winter shorn please allow for the fleece (pull the tape measure tight)
Tips on measuring: Use a tailors tape measure not a metal one.