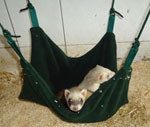 Modelled by Bear
Pet Hammocks
Double thickness polar fleece with 3/4in web loops on each corner.
Supplied with 2 metres of polyprop braid and 4 small billet hooks to attach to cage.
3 sizes:
Small 9in X 9in. £5.00
Medium 14in X 14in. £6.00
Large 18in X 18in. £7.00
Machine washable. Suitable for hamsters, gerbils, rats, chinchillas, ferrets etc.
Soft and cosy.
Colours: Yellow, Red, Burgundy, Navy, Forest.