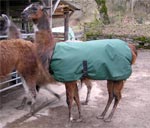 Camelid Raincoats
Adult £35.00
Cria £30.00
Ideal for elderly, sick or shorn camelids.
Waterproof, breathable polyester with cotton drill or polar fleece lining.
2" web strap to front and girth with quick release fittings.
1" under-tail strap plus 3/4" crupper strap with quick release fittings.
Colours: Green, Blue, Black, Red, Burgundy.
Made to measure only.
Also available: Cotton drill show coats.
£27.00
Similar style, various colours.
For measuring chart and show coat colours
please see Sheep Show Coats.