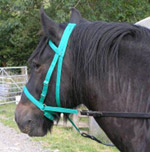 Modelled by "Towser"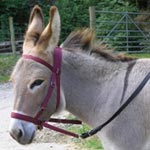 Modelled by "Frankie"
Bitless Bridles
Made to measure. Suitable for horses, ponies and donkeys (including miniature).
Gentle, effective control for riding, driving and leading.
The bridles are made from ¾" (20mm) nylon web with a padded brow band and a 1" (25mm) padded nose band. They are light, typically 180-200gm, and standard reins may be used.
Bitless Bridles: £37.00
Matching Reins:
Double thickness ¾" web.
Sewn on, trigger hook or buckle
attachment.
Sewn on: £5.00
Trigger hook or buckle: £6.50
Driving reins: £POA
Please state required attachment and length with order.
Colours available: Black, White, Brown, Red, Burgundy, Emerald, Forest, Royal, Navy, Yellow, Grey, Bright Blue.
Two tone available.
Measuring for a Bridle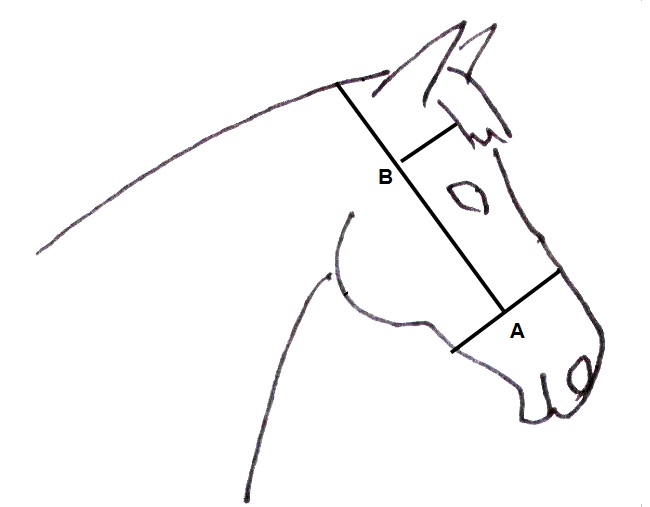 Measure:
A to A right round nose
approx 1.5-2 in (40-50mm) back from lips.
A to A (where cheek pieces finish) across top of nose.
B to B across brow between cheek straps for brow band.
A through B, behind ears and through B to A on other side for head piece.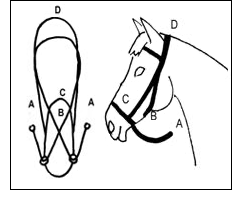 How It Works
Pressure from the reins attached at A (see sketch) translates to gentle pressure below the jaw via crossed elements B, to the nose via the nose band C and at the poll D. This is a painless process and works as well leading as it does riding or driving.
Bitless bridles are ideal for animals with mouth or dental problems.