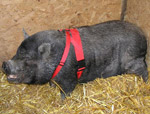 Modelled by "Harriet" Courtesy of Lisa
Pig Harness
Made to measure only, minimum girth 24 inches.
Specify girth directly behind front legs
Sizes 24" to 40" girth £16.00
Sizes over 40" girth £19.00
Adjustable 2" nylon web girth. Quick release buckles and 2in "D" ring for lead. 2in strap between legs with two adjustable 1in straps crossing over shoulders.
Made to measure only.

Colours available: Red, Black, Yellow, Navy, Grey or Royal.
For pigs that are unable to accept a tight girth we can supply, as an extra, breeching to prevent the harness pulling forward. £8.00 each.
Promotional Coats
Plain cotton drill with chest & girth straps.
Suitable for reindeer, goats, sheep, donkeys etc.
Use the attraction of your animal to advertise your business.
Small topline up to 30" £17.00
Medium 31" to 40" £20.00
Large 41" to 50" £23.00
Measurements required: topline, depth, girth and chest strap.
Colours as showcoats.