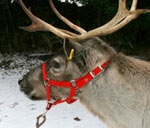 Reindeer Headcollars - Model: www.thelittlezoo.co.uk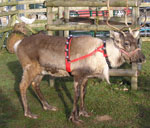 Reindeer Sleigh Harness - Model: Small Breeds Farm - Park: www.owlcentre.com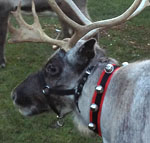 Reindeer Collars - Model: This email address is being protected from spambots. You need JavaScript enabled to view it.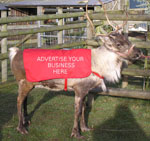 Promotional Coats - Model: Small Breeds Farm - Park: www.owlcentre.com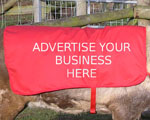 Promotional Coats - Close-up
Reindeer Headcollars
Padded noseband, 5 and 7 hole adjustment, buckle head strap.
¾ in web. Slip-ring control for leading.
Small: Up to one year old.
Med: Adult Female.
Large: Adult Male
Colours available: Red, black, royal blue, bright blue, navy blue, grey, yellow, burgundy, emerald green, forest green, brown and white.
£14.00
---
Reindeer Sleigh Harness
Made with 2" web with 1" overlay web, buckle fastening.
Neck collar with 35mm bells. Girth band with bells and large ring for sleigh shaft attachment and connecting to neck collar.
N.B. The number of bells depends on the size of the harness.
£55.00
2" web colours: Red, black, navy, royal, grey, yellow.
1" web colours as headcollars.
Measurements required: Total girth, total base of neck and distance between neck and girth (see picture for connecting strap position).
Please note: This is a decorative harness designed for light duty only. For a full driving harness please refer to the Goat Wear section. A sizing harness for reindeer is available.
---
Reindeer Collars
2" web with 1" overlay web. 35mm bells.
Surcingle fastening.
N.B. The number of bells depends on the size of the collar.

Up to 30 inches (76 cm) £20.00
30-40 inches (76-102 cm) £22.00
40-50 inches (102–130 cm) £24.00
Larger sizes POA.
Colours as harness.
Measurement required: Neck.
---
Promotional Coats
Plain cotton drill with chest & girth straps.
Suitable for reindeer, goats, sheep, donkeys etc.
Use the attraction of your animal to advertise your business.
Small topline up to 30" £17.00
Medium 31" to 40" £20.00
Large 41" to 50" £23.00
Measurements required: topline, depth, girth and chest strap.


PLEASE NOTE: We do not have facilities to print on the coats.
Cotton Drill: Black, White, Brown, Grey, Navy, Royal, Emerald, Forest, Red, Burgundy.
Binding: Yellow, Grey, Emerald, Red, Forest, Royal, Navy, Brown, Black, White, Burgundy.