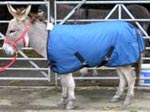 Modelled by "Frankie"
Winter Turn Out/Lightweight Rugs
All miniature horse and donkey rugs are made to measure, Individual variations may be easily accommodated without extra cost; discuss your requirements with the person who actually makes the rugs.
Winter turn-out Rugs
Outer: Waterproof, breathable polyester.
Insulation: Polar fleece.
Lining: Poly-cotton.
Anti-rub shoulders, cross-over surcingles, leg straps, or one under-tail strap. Front closure velcro with buckled, webbing chest straps.
Please be aware that breathable material cannot be 100% waterproof in extreme conditions.
Please scroll down for measuring instructions.
Up to 3ft 6in measurement B £78.00
Over 3ft 6in up to 4ft 6in £83.00
Over 4ft 6ins: £8.00 per 6ins
Lightweight turn-out Rugs
As above without insulation.
Up to 3ft 6in measurement B £54.00
Over 3ft 6in up to 4ft 6in £58.00
Over 4ft 6ins: plus £5.50 per 6ins
Colours:

Outer: Navy, Black, Green, Red, Burgundy. (Now also available in Hi-Viz yellow)
Lining: Grey.
Binding and straps: Black.
Measuring for a Rug or Show Coat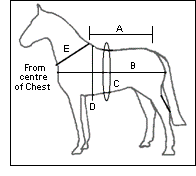 Measure:
A. Topline from 4ins (10cm) in front of withers (or donkey cross) to dock.
B. From centre chest to back of thigh.
C. Total girth at widest part.
D.From spine at widest point of animal to desired length.
E. From start point of measurement A to top of rug at chest centreline.
Do not use metal tape or pull tape tight.