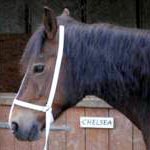 Modelled by "Chelsea"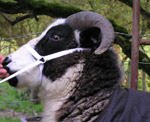 Modelled by "Spot"
Slip Halters £10.50
Soft and strong ¾" tubular polyester web. Suitable for donkeys, ponies, large sheep, small cows, calves.
One size fits all.
In white only.
Soft, Tubular Polyester Web Halters £7.00
Made from ½" web. Fixed size upper nose band with 2 rings. Ideal for lambs.
Ram, Ewe and Lamb sizes.
Available in white only.