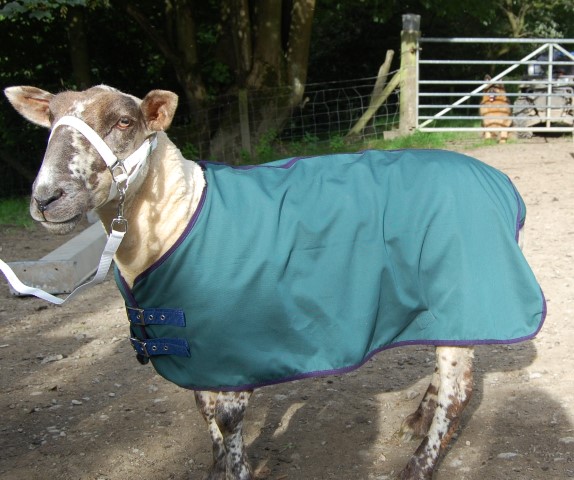 Standard 4in flap Modelled by "Sam"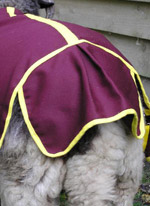 9in tail flap
Show Coats for sheep:

Made to measure: please scroll down for instructions.
Prices: Measurement D: Under 18" (45cm) £28.00
18" up to 22" (55cm) £30.00
Over 22" £32.00 over 25" £36.00
The coats are made from cotton drill in a similar style to horse rugs. There are two adjustable straps and Velcro fastening in the front. (Alternate front styles available on request). There are two adjustable leg straps with snap hook fasteners at the back.
The straps are made from nylon webbing.
Colours Available

Cotton Drill: Black, White, Brown, Grey, Navy, Royal, Emerald, Forest, Red, Burgundy.
Binding: Yellow, Grey, Emerald, Red, Forest, Royal, Navy, Brown, Black, White, Burgundy.
Nylon Straps: as for binding.
Please see: Accessories page for matching haybags, tool aprons etc.
Measuring for a Show Coat

Measure:
A Length of topline.
B Centre of chest to quarters.
D Depth from mid shoulder (spine) to required length.
NB: B will ALWAYS be greater than A.
Tail flaps are 4 or 9in, please specify.
Tips on measuring: Use a tailors tape measure not a metal one. Do not pull tape tight or you will have a tight coat.