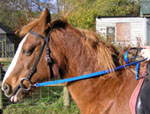 Plain Reins - Modelled by Sali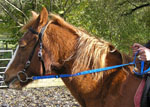 Loop Slide Reins - Modelled by Sali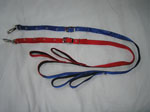 Buckle Type Loop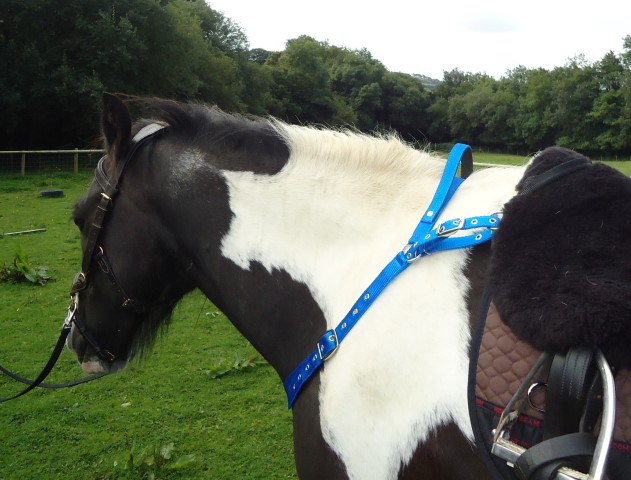 Security Neck Strap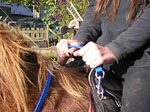 Balance Strap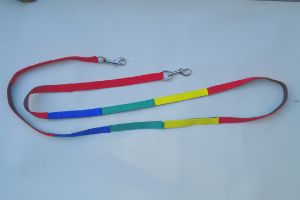 Rainbow Reins
Rubber Back Web Reins
¾" soft webbing reins with rubber grip backing. Non rust, heavy duty bridle clip attachment to bit.
Plain or with loop handholds for small children or disabled riders with hand/arm weakness.
Both types are available in contrasting colours for easy distinction of left and right, ideal for riding schools or RDA.
Loop reins have two loops on each side spaced 3" (75mm) apart and have length adjustment at clip end.
Colours: Black, brown, white, grey, red, royal blue, navy blue, bright blue, emerald, forest green, burgundy and yellow.
Plain:
small pony 12.2 and under - £ 9.50
pony size - £ 9.50
horse size - £ 10.50
With Loops:
small pony 12.2 and under - £ 14.50
pony size - £ 14.50
horse size - £ 15.50
---
Security Neckstrap
Neckstrap that attaches to the saddle D's to prevent movement.
Raised handle has rubber grip on inside.
Ideal for extra security when training youngsters and for RDA riders.
Availiable in 12 colours as for reins.
Sizes: Small pony, pony and horse.
£12.50
---
Balance Strap
Padded 3/4" webbing with two trigger hooks to attach to saddle Ds offering extra stability for beginners or nervous riders.
Colours: as for reins (see above).
Child or Adult Sizes: £5.50
---
Rainbow Reins
Rubber backed web reins with coloured sections. Designed to aid teaching the position of the hands on the reins these are ideal for young children and RDA.
Colours to order as above.
Sizes: small pony, pony, horse.
£12.00