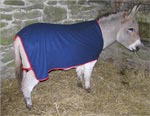 Polar Fleece Rugs
Made to measure in polar fleece with cotton binding. One chest strap and detachable under tail strap as standard. Surcingles extra. Ideal for travelling, as a lightweight stable rug or as a warm show coat for clipped donkeys.
Colours: White, Black, Navy, Red, Burgundy, Forest, Royal, Yellow, Grey.
Cotton binding and straps as above.
Measure: as for rug or show coat
Up to 3ft 6in measurement B £31.00
Over 3ft 6in to 4ft 6in £34.00
Surcingles add £5.00