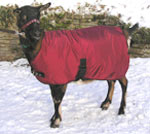 Modelled by "Phoebe"
Winter Coats:

Made to measure, please scroll down for instructions.
Prices: Measurement D: Under 18" (45cm) £35.00
18" up to 22" (55cm) £37.00
Over 22" £39.00
Waterproof and warm - Ideal for angoras or the elderly favourite.
The coats are made from a waterproof, breathable polyester outer with a polar fleece or cotton lining and are available with two rear leg straps or a single strap behind the legs. Please state your preference.
Please be aware that breathable material cannot be 100% waterproof in extreme conditions.
.
Colours Available

Outer: Black, Red, Burgundy, Blue and Green.
Cotton Lining: Grey.
Polar fleece: Variable.
Measuring for a Winter or Show Coat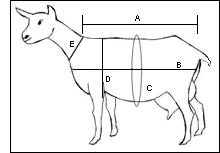 Measure:
A. Topline from just in front of withers to dock.
B. From centre chest to back of thigh.
C. Total girth at widest part.
D. Centre of withers to desired length.
E. From start point of measurement A to top of rug at chest centreline.
NB: B will ALWAYS be greater than A.
Tips on measuring: Use a tailors tape measure not a metal one. Do not pull tape tight or you will have a tight coat.