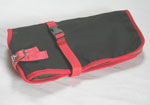 Kid Coats
Ideal as a show coat or just to keep little ones warm. Machine washable.
Cotton drill with polar fleece lining. Adjustable, buckle front and quick release girth strap.
Outer cotton colours as adult show coats.
Also available in waterproof, breathable polyester. Outer colours as winter coats.
Measurements required: topline and depth.
Up to 15" topline £9.00
16 - 20" topline £17.00